Resident Assistant Training Module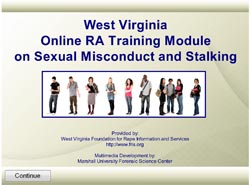 This training module is designed to provide information and resources on the issues of stalking and sexual misconduct for resident assistants/resident advisors (RAs) on college campuses. It provides a general overview of sexual assault, sexual harassment and stalking.
Although it was created for use with RAs, it has served as a good basic training tool for new advocates, volunteers, and others who are interested in increasing their knowledge on these issues.
The module takes approximately 45 minutes to complete. Once you begin, you cannot move backward in the module or leave and re-enter at your stopping point.
Before you get started you will want to make sure you have the following items:
Adobe Flash Player installed on your viewing computer
Pop-ups are enabled, pop-up blockers turned off
Headphones or speakers
Mouse or trackpad
The Resident Assistant Training Module User's Guide PDF
Provides additional information on the contents and answers frequently asked questions.
Funding
Funding for this program was provided as part of Award #2005-MU-BX-K020 from the Office of Justice Programs, National Institute of Justice. Points of view presented in this project do not necessarily represent the official position or policies of the Department of Justice.
Multimedia development for this project was provided by MUFSC.